1-1 Introduction: Religious Buddhism and 'Secular' Buddhism (sub: eng/rus) / 1-1 Введение
I completed Buddhism and Modern Psychology course on the Coursera learning platform from Princeton University, taught by professor Robert Wright. I highly recommend this course if it comes back to the Coursera Platform (currently unavailable), to strengthen practice or build awareness.
The Dalai Lama has said that Buddhism and science are deeply compatible and have encouraged Western scholars to critically examine the meditative practice and Buddhist ideas about the human mind. Several scientists and philosophers have taken up this challenge. There have been brain scans of meditators and philosophical examinations of Buddhist doctrines. Darwin and the Buddha have even discussed: Do early Buddhist descriptions of the mind and the human condition make particular evolutionary psychology? This course will examine how Buddhism is faring under this scrutiny. Are neuroscientists starting to understand how meditation "works"? Would such an understanding validate reflection—or might physical explanations of meditation undermine the spiritual significance attributed to it? And how are some essential Buddhist claims about the human mind holding up? We'll pay special attention to some highly counterintuitive doctrines: that the self doesn't exist and that much of perceived reality is in some sense illusory. Make these claims, radical as they sound, make a certain kind of sense in light of modern psychology? And what are the implications of all this for how we should live our lives? Can meditation make us not just happier but better people?
"Don't think of Buddhism as some kind of narrow, closed-minded belief system. It isn't. Buddhist doctrine is not a historical fabrication derived through imagination and mental speculation, but an accurate psychological explanation of the actual nature of the mind."
Lama Zopa Rinpoche
Robert Wright, a Schwartz Senior Fellow at the New America Foundation, is the author of Nonzero: The Logic of Human Destiny and The Moral Animal: Evolutionary Psychology and Everyday Life, both published by Vintage Books. The Moral Animal was named by the New York Times Book Review as one of the 12 best books of 1994 and has been published in 12 languages. Nonzero was named a New York Times Book Review Notable Book for 2000 and has been published in nine languages. Wright's first book, Three Scientists and Their Gods: Looking for Meaning in an Age of Information, was published in 1988 and was nominated for a National Book Critics Circle Award. Wright is a contributing editor at The New Republic, Time, and Slate. He has also written for the Atlantic Monthly, the New Yorker, and the New York Times Magazine. He previously worked at The Sciences magazine, where his column "The Information Age" won the National Magazine Award for Essay and Criticism.
You may be aware that because I'm no longer teaching at Princeton, I had to take my Buddhism and Modern Psychology lectures—based on a course I taught at Princeton—off the Coursera platform. You may also be aware that you can regain access to the course videos by subscribing to my Nonzero Newsletter. (If you haven't done that yet, sign up here—it's free—and you'll get an email with a link to the course.)
But here's something you're probably not aware of: I recently created an audio podcast version of the course for people who prefer to imbibe this kind of content while jogging or biking or walking around aimlessly or whatever. To get all six lectures in this form, you must be a paid newsletter subscriber, but you can listen to lectures one and two without taking that plunge. And again, you can watch all six video lectures with an unpaid subscription.
If you want to get the contents of the course in written form, the closest thing to that is the book I was writing when I taped the course: Why Buddhism Is True: The Science and Philosophy of Meditation and Enlightenment.
And speaking of books: I'm now writing a book on "cognitive empathy"—that is, on the challenging and important task of understanding how other people see the world. As you might imagine, this subject has connections to Buddhism—some of which I spelled out in this piece on the connection between Buddhism and the newsletter's overall mission. 
I'm writing parts of the new book—or at least drafts of parts of the book—in the newsletter. And readers are giving me feedback that helps when I revise the drafts. Here, here, and here are a few book chunks I've written so far—with comments from readers at the bottom. And here is a description of the whole project.
So that's the news from my end. I hope some of this interests you—and thanks for showing interest in my work by signing up for the course in the first place. I hope you have a happy holiday season and a wonderful new year.
Bob Wright
NEW YORK, April 18, 2018 — Author Robert Wright discusses insights from his recent book Why Buddhism Is True with Juju Chang of ABC News. (1 hr., 19 sec.)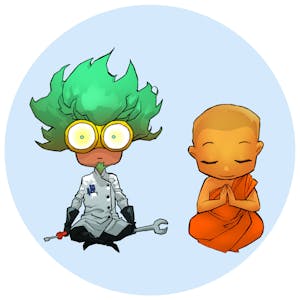 De-Mystifying Mindfulness
$30.00
Interest in meditation, mindfulness, and contemplation has grown exponentially recently. Rather than being seen as mystical practices from ancient Buddhism or esoteric philosophy, they are increasingly seen as technologies rooted in evidence from psychology and neuroscience. Mindfulness has become the basis for numerous therapeutic interventions, both as a treatment in healthcare and as a means of enhancing well-being and happiness. For millions worldwide, mindfulness has become a lifestyle choice, enhancing and enriching everyday experiences. Mindfulness is big business. But what is mindfulness? Is it really good for you? Can anyone learn it? How can you recognize charlatans? Would you want to live in a mindful society, and would it smell like sandalwood? What does it feel like to be mindful? Are you mindful already, and how would you know? Evolving from the popular Honours Academy course at Leiden University, this innovative course combines conventional scholarly inquiry from multiple disciplines (ranging from psychology, through philosophy, to politics) with experiential learning (including specially designed 'meditation labs,' in which you'll get a chance to practice and analyze mindfulness on yourself). Ultimately, the course aims to provide responsible, comprehensive, and inclusive education about (and in) mindfulness as a contemporary phenomenon. During the production of this course, we have been supported by Willem Kuyken, Director of the University of Oxford Mindfulness Centre, and Stephen Batchelor, co-founder of Bodhi College. And we gratefully acknowledge the contributions made by Mark Williams, co-developer of Mindfulness-based Cognitive Therapy (MBCT), and Rebecca Crane, Director of the Centre for Mindfulness Research and Practice at the University of Bangor. We have recently added expert advice from Dawn Scott (Spirit Rock & Barre Centre for Buddhist Studies), Sydney Spears (University of Kansa), Elisabeth Stanley (Georgetown University), Susan Woods (Centre for Mindfulness Studies), Patricia Rockman (University of Toronto) and Jeff Corntassel (University of Victoria). "A deep and profound dive into modern-day mindfulness practice's ethical, social, psychological, and philosophical implications. The course is not for the faint of heart, but it is also full of practical, guided exercises for the uninitiated! Thank you for redefining my relationship to Mindfulness in a completely new and thought-provoking way" 28 April 2021 "The course enabled me to explore the mindfulness construct at its deeper level from philosophical, psychological, and political lenses. The mindfulness labs were very useful in practicing mindful skills." On 23 Nov 2018 "i took this course after some time when I tried to practice mindfulness and meditation but with doubtful success. The course answered many questions, and I needed that to keep me motivated. It helped me understand the mindfulness practice's origins and, more importantly, benefits and made me persist in my attempts. I'm really glad I took the course; I find it interesting, well taught, and very useful for all those seeking deeper explanation in why trying mindfulness." 9 Oct 2018 "I have taken other courses on other online platforms. However, this has been one of the best courses I have found online." 3 Oct 2018 "I like the invitation to us, the learners, to rethink our preconceptions and beliefs and then make our judgment about mindfulness. The overall tone was very friendly and open, resources very useful." 12 Dec 2017
ADDITIONAL DETAILS
Landing Page De-Mystifying Mindfulness
Manufacturer Universiteit Leiden
Category Educational Software
Availability In Stock
SKU crse:1_0XfstIEeWRERK7eSqctw
GTIN
Robert Wright, "Why Buddhism Is True"
People have always struggled to understand why there's suffering in the world and to find ways to relieve it. Buddhism's answer is that we suffer due to not seeing clearly. The practice proposes that clarity—and morality and happiness along with it—comes through meditation. Now research scientists are catching up with this ancient wisdom. Drawing on new findings in evolutionary psychology and neuroscience, Wright, co-founder, and editor-in-chief of Bloggingheads. tv and the author of books including The Evolution of God and The Moral Animal, traces suffering to fear, anxiety, and anger, the strong emotions that alerted our ancestors to danger and helped them survive. These triggers have been wired into us by evolution, but now, instead of saving us, they cause us to suffer. Meditation can help us see the inherent meaninglessness of these drives and dispel their power over us.
Robert Wright & Joseph Goldstein [The Wright Show] (full conversation)
00:01:03 The Buddhist concepts of mindfulness and awakening 00:10:36 Feelings, meditation, and the struggle with fear 00:19:06 Aversion, impermanence, and the Four Noble Truths 00:27:11 The foundations of mindfulness 00:39:11 Joseph: Our thoughts are like dictators 00:54:32 Reconnecting with the self Watch this conversation on MeaningofLife.tv http://meaningoflife.tv/videos/31822 Robert Wright (Bloggingheads.tv, The Evolution of God, Nonzero) and Joseph Goldstein (Insight Meditation Society, Mindfulness)
Recorded on 12/29/2013
"Secular" mindfulness as deeply Buddhist | Robert Wright & Jon Kabat-Zinn [The Wright Show]
6:03 Was the Buddha a Buddhist? 9:02 What the Buddha meant by "suffering" 14:12 Mindfulness as awareness 19:58 "Secular" mindfulness as sacred 30:41 The trap of goal-oriented meditation 40:25 The heart of the Buddha's message 44:23 When Jon discovered his purpose 53:18 Mindfulness training in schools Robert Wright (Bloggingheads.tv, The Evolution of God, Nonzero, Why Buddhism Is True) and Jon Kabat-Zinn (Center for Mindfulness, Guided Mindfulness Meditation Practices)
Can Buddhist Practices Help Us? | Robert Wright | Talks at Google
Robert Wright is one of the nation's foremost public intellectuals and an expert on evolutionary psychology. He is a Pulitzer Prize finalist and author of several accessible bestselling books on science, history, and religion. Wright shows how evolution shaped the human brain and often deludes us, about ourselves and the world. If our minds are rigged for anxiety, depression, anger, and greed, what do we do? Buddhist meditation shows specific and practical steps we can take to see things as they really are. By seeing the world more clearly, meditation can make us better, happier people.
ReAir TMBS 10: Buddhism and Our Struggle & PseudoWoke Centrism ft. Robert Wright & Trevor Beaulieu
Since so many people are just now discovering Michael's work and TMBS we've decided to re-air every TMBS episode in order starting with the premiere,
https://www.youtube.com/watch?v=N2_f6…
This week's show: We have found audio of Obama challenging John Kerry to an IQ test in a 2014 cabinet meeting. We break down Milo's exposed emails and the relationship between him, the Mercer family, Breitbart, and alt-right trolls. Author of "Why Buddhism is True" Robert Wright (@robertwrighter) calls in to talk about Buddhism and how we can bring cognitive empathy and mindfulness to politics. Woke Susan Collins welcomes Bob Corker to the Resistance. Trevor Beaulieu (@Rickyrawls), the host of Champagne Sharks (@champagnesharks), joins us in the studio and talks about what is often missed in typical conversations about identity, race, and class. Read Trevor's piece in The Intercept on the Kaepernick protest. TMBS re-aired episodes will come out every Tuesday at 7 PM EST here on The Michael Brooks Show Channel. This program has been put together by The Michael Brooks Legacy Project. To learn more and rewatch the postgame content visit
https://www.patreon.com/TMBS
Re-aired edit by Danny Celentano
https://www.patreon.com/BodyPolitic?f…
IG/Twitter @Body Politic Media
Song
N.Y. State of Mind
Artist
Nas
Licensed to YouTube by
SME (on behalf of Columbia); LatinAutor – UMPG, AMRA, SOLAR Music Rights Management, LatinAutorPerf, BMI – Broadcast Music Inc., Sony ATV Publishing, Kobalt Music Publishing, CMRRA, UNIAO BRASILEIRA DE EDITORAS DE MUSICA – UBEM, UMPG Publishing, UMPI, LatinAutor – SonyATV, LatinAutor, and 15 Music Rights Societies
Bret Weinstein on "The Portal" (w/ host Eric Weinstein), Ep. #019 – The Prediction and the DISC.
All of our Mice are Broken. On this episode of The Portal, Bret and Eric sit down alone with each other for the first time in public. There was no plan. There was, however, a remarkable story of science at its both best and worst that had not been told in years. After an initial tussle, we dusted off the cobwebs and decided to reconstruct it raw and share it with you, our Portal audience, for the first time. I don't think it will be the last as we are now again looking for our old notes to tighten it up for the next telling. We hope you find it interesting, and that it inspires you younger and less established scientists to tell your stories using this new medium of long-form podcasting. We hope the next place you hear this story will be in a biology department seminar room in perhaps Cambridge, Chicago, Princeton, the Bay Area, or elsewhere. Until then, be well and have a listen to this initial and raw version. [The DISC referred to in the Title is the Distributed Idea Suppression Complex as discussed in episode #018 of The Portal Podcast.] Original Audio Only Sponsors: Quip: Getquip.com/portal Wine Access: Wineaccess.com/portal Indeed: Indeed.com/portal Blinkist: Blinkist.com/portal